Climate change and the climate crisis is no new concept, it has been the subject of policy agenda and environmental activism for decades. Only more recently has it been treated with the urgency required as we are forced to examine and act upon the very real and catastrophic existential threat of climate breakdown.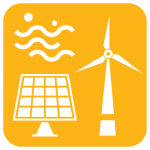 The co-operative movement has long been at the heart of these discussions and leading the way in putting environmental and ecological principles and values into action through:
community renewable energy
greener sustainable co-operative housing
minimising local and global environmental impact in food production
community supported organic and eco-friendly agriculture
environmental education and workshops
reducing and eliminating carbon emissions
creating green jobs and contributing to a fairer more co-operative economy with a green new deal as a priority.
Co-operatives have been global leaders in building economic, social and environmental sustainability through creating models of business based on ethical values and principles. Co-operatives can provide for the needs and aspirations of their members, the communities they live in and in turn their impact and relationship with our environment and influence the positive measures and steps we can take together to tackle climate change.
As co-operatives we have a responsibility to contribute through our individual and collective action as well as advocating and influencing meaningful system change that will benefit us all and the world we live in.
Here at Coop Loan Fund, we are incredibly proud to have worked with some fantastic co-operatives who put the environment, climate change and their own ecological impact at the heart of everything they do including:
Plotgate – Community supported agriculture
Sacred Earth – Nature-based education courses and workshops
Lauriston Farm – Organic farm on 210 acres of site of special scientific interest farmland & saltmarsh on Blackwater Estuary
Hempen – Hemp grower and manufacturer of hemp products
Regather – Organic fruit and veg box scheme and vegan micro-brewery based in Sheffield
Valley Organics – Wholefood zero packaging community shop
Wild Thyme wholefoods – Wholefood co-op promoting zero packaging in their shop
R-Eco – Solar panel installers
Ecological Land Co-op – Small hold farming co-op
14 million people are members of a co‑op in the UK and you could be too. Join a co-op, support your community and be part of a movement that has the potential to change society for the better.
Coop Loan Fund provides unsecured loans to co-operatives with no personal guarantees up to £85,000 with ongoing advice and support and no set lending terms.
Unique lending: to co-ops, from co-ops.