An historic village inn frequented by two of the most famous English landscape painters and now owned by its residents receives long-term finance boost.
With an inn on its site going back all the way to 1305, The Lamarsh Lion Community Pub commands a superb view over the River Stour much loved and sketched by the renowned landscape artists Thomas Gainsborough and John Constable. On the Essex/Suffolk border about 10 miles northwest of Colchester, Lamarsh is a small village of around 180 residents who since 2017 have owned their community pub after it was put up for sale the year before.
Along with a successful community share issue, a grant from the 'More Than a Pub' legacy scheme, a loan from Co-operative & Community Finance, and a private loan; the community were able to proceed with the purchase of the pub and begin refurbishments from July 2017. Since then, repairs and renewals to guttering, roof tiling, chimney stacks, windows and doors as well as refitting and reequipping the trade kitchen, timber frame, damp issues and drainage have all been undertaken and completed.
Co-op Loan Fund along with Co-operative & Community Finance were pleased to help secure additional finance for the pub as it continues to develop and grow as a vital community asset. Kevin Lloyd-Evans, Lending and Relationship Manager at Co-operative & Community Finance said: "We are delighted to be able to support for The Lamarsh Lion. Our long-term finance was able to support the needs of the group. This type of finance was not available through other lenders. Rising energy prices have a created tough trading conditions, however with impressive leadership in place and a debt structure which supports the business, the outlook has significantly improved for the group."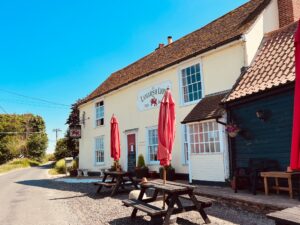 With a committee that offers a broad range of skills and experience, The Lamarsh Lion has built up a reputation as a place to eat and drink for families in the local area and has been doing well with theme nights and community focused activities. With residents also utilising the pub regularly for family parties, The Lamarsh Lion are truly establishing themselves as a family friendly affordable venue in the region.
Ruth Allison, Treasurer at The Lamarsh Lion Community Pub Ltd said: "Getting this further investment from Co-operative & Community Finance and Co-op Loan Fund has really been a boost to our group. The challenges of running a community business in the current economic environment are complex and persistent. Having a supportive lender who knows what you are going through, understands and is willing to help is much needed and appreciated. It is a refreshing approach to accessing community finance."
Hospitality co-ops have shown incredible resilience in recent years doing the right thing by their communities through diversifying services and supporting staff, members, and customers. Co-op Loan Fund continues to provide crucial guidance, advice and supportive loan finance to the co-operative hospitality sector aiming to create new opportunities for local involvement in community business up and down the country.
You can find out more about The Lamarsh Lion by visiting their website.