A worker co-op accountancy firm are putting principles into practice with accounting services rooted in co-operative values and sociocratic working models.
Working primarily within the co-operative and not-for-profit sector Third Sector Accountancy are a workers' co-op based in Manchester but with staff located across the country and Germany. A co-operative of 20 members and close to 400 clients, the accountancy firm promotes a vision where 'compassion, cooperation and autonomy are the guiding principles, rather than greed and competition.'
Third Sector Accountancy work on a model of sociocracy meaning the co-operative can organise in a decentralised way making decisions with equity, empowerment, trust and transparency. They are also committed to providing training and sharing experience and expertise to promote growth within the co-operative movement.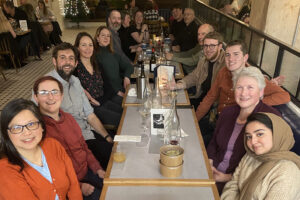 Scott Lockwood, Chartered Accountant and Third Sector Accountancy co-op member said: "Over the past 6 years we have grown significantly. This success is down to a range of factors, including our unique structure, specialist knowledge, our experienced and friendly team, and the high standards of our work."
Co-op Loan Fund has provided a loan to Third Sector Accountancy to help with working capital as the worker co-op continues to grow and expand their client base. Kevin Lloyd-Evans, Lending and Relationship Manager at Co-operative & Community Finance said: "The Co-op Loan Fund is designed to support co-operative development in the sector. This loan is a great example of sector support. Not only are we supporting an individual co-op we are supporting the many co-operative organisations which use Third Sector Accountancy. We are delighted to be working with Third Sector."
Although only formed as a workers' co-op in 2017, Third Sector Accountancy has a wealth of experience in their team with extensive knowledge of the co-operative movement, charities and the third sector more generally.
Scott Lockwood continued to say: "One of our greatest successes and advantages of being a workers' co-operative is that we have not had to rely on external borrowing to fund such rapid early growth. However, as the composition of the co-op has changed entering a new and more controlled growth stage, we recognised the importance of obtaining external borrowings. Co-op Loan Fund was the obvious choice for funding due to their structure as a co-operative, their shared vision in promoting the co-operative sector and their open and transparent investment policies." 
Co-op Loan Fund recognises the importance of co-operatives within the financial sector and aims to reduce the barriers they can often be faced with including access to capital, a lack of public awareness due to competition with bigger for-profit firms, as well as the ability and resources required to adapt to an increasingly digital economy. Visit loanfund.coop to find out more about our services and the co-operatives we work with.
You can keep up to date with Third Sector Accountancy by visiting their website.
Unique lending: to co-ops, from co-ops.