At a time when many businesses have temporarily closed, an employee-owned company in south Wales has increased production to cope with a big rise in demand for its packaging services.
In recent weeks PrimePac Solutions Ltd in Ebbw Vale has been inundated with orders to package sanitising and cleaning products. It has also bought a mixer to enable it to produce its own sanitiser. The company has taken on extra staff and is running two or three shifts a day. It has drawn down previously arranged loans from Co-op Loan Fund and Co-operative & Community Finance to help with cashflow.
Managing director and founder member Steve Meredith said: "We have managed to ramp up production while at the same time implementing social distancing and other government guidance in the workplace. We are keeping a lot of customers happy and supporting them by getting important products to them at this difficult time. Our staff are incredible – those at the plant, those working from home, and those who are furloughed – everyone is doing their bit."
PrimePac Solutions was set up in 2005 following closure of a Dutch-owned packaging company in Ebbw Vale. Nineteen former employees used their redundancy money to set up a new business with help from Wales Co-operative Centre and Co-operative & Community Finance. After a difficult  initial period the business has grown to over 50 employees and an annual turnover of £3m. Today PrimePac has net assets of £2.5m.
It has the plant, equipment and experience to manufacture and fill a wide range of packaging formats and sizes for many different sectors, from 5mg powder sachets to 1 litre glass bottles. It has major customers in the homecare, gardening, health and personal care sectors.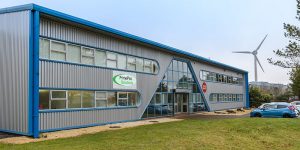 PrimePac was already planning to expand before the coronavirus crisis. It had been awarded a major contract to package shoe care products for a very well-known shoe brand. Earlier this year it took on the lease of a 35,000 sq ft warehouse, on the same estate as its 27,000 sq ft manufacturing facility, to hold extra stock. However, with the temporary closure of all but essential retail shops there was almost no demand for the shoe care products. Fortunately for PrimePac this downturn coincided with a massive increase in demand for packing and supplying sanitising and cleaning products.
Ian Rothwell, investment manager at Co-operative & Community Finance, said: "We are delighted to help PrimePac again, almost 15 years after we provided finance for the start up. This is a successful business with a very experienced workforce and management team. PrimePac is a flexible contractor that can make and pack almost anything for anyone and as such should be well placed to survive and even prosper through these uncertain times."