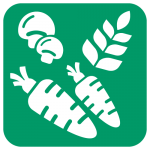 Fairtrade Fortnight is bigger and better than ever this year. This annual promotional campaign is effective at both increasing product sales and building belief in the possibility of a better world.
Co-operatives have played a major role in the development of Fairtrade across the world. In 1998, the Co-operative Group became the first UK major retailer to stock Fairtrade products in all its stores, following a trend set by many small retail and wholesale co-ops.
In Africa and South America, it was co-operatives of farmers, especially of cocoa and coffee, that were the first to meet the standards required to market their produce as Fairtrade.
The co-operative model is being used to shorten the supply chain and make trade fairer. For example, the successful Divine Chocolate company is part owned by the Kuapa Kokoo co-operative in Ghana.
Fairtrade is just one example of how co-ops have often been pioneers in new food movements – community supported agriculture, fair trade, food miles, organic, vegetarian/vegan, organic, veg box schemes, wholefoods, zero waste etc.
Determination to supply wholesome food at a fair price drove the Rochdale Pioneers to set up in 1844 a society that became the prototype for the co-operative movement in the UK.
Many years later, in the 1970s, it was food, especially wholefoods and vegetarianism, that inspired a new wave of workers' co-ops. One of the quaint characteristics of these wholefood co-ops was that customers were encouraged to 'bag the beans' themselves. Many of today's retail co-ops are reviving this practice as a way of reducing unnecessary packaging. In 2019, Valley Organics in Hebden Bridge opened a 'zero-waste' outlet which was helped by a loan from Co-op Loan Fund.
In recent years we have directly helped the following co-ops involved in producing and selling food:
Boundary Brewing, craft brewery in Belfast
Calon Wen, co-op of organic milk producers across Wales
Dunbar Community Bakery, high street baker and patisserie
Lauriston Farm, community supported agriculture
Leicester Wholefoods, long-established wholefood shop
Plotgate, community supported agriculture
Regather, producer and supplier of local food in Sheffield
Scotland the Bread, co-op venture to grow better grain and bake better bread
Valley Organics, grocery shop
Wild Thyme, wholefood shop and juice bar