Work has started on the development of a 15-acre site on the edge of Sheffield as a community-owned market garden to supply the city with organic fruit and vegetables. Co-op Loan Fund has provided the multi-faceted Regather Co-operative with loan finance to expand its food production operation.
Regather Co-operative provides a range of inter-related services including a vegetable box scheme, a micro-brewery, a kitchen, a venue, and events planning.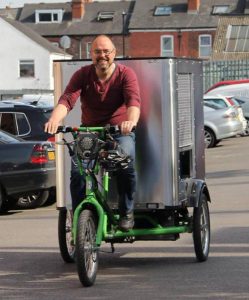 The vegetable box scheme is very popular, expanding from 40 customers in 2014 to 300 in 2018. To keep pace with the growing demand, the co-operative is developing Regather Farm which will include a mixture of fruit and vegetable beds, polytunnels, free-range hens, orchards and woodland. The site in the Moss Valley, some 5 miles from the centre of Sheffield, is adjacent to several organic and environmental ventures including Friends' Field and Sheffield Organic Growers with whom Regather works closely. The ground for the hard standing is currently (in January 2019) being prepared and the polytunnels will be erected in the spring. It is hoped that the first produce will be cropped in late summer.
The idea for Regather started in 2005 when social entrepreneur Gareth Roberts and friends were organising events in Sheffield. In 2010 it was incorporated as a co-operative and later it leased premises in Highfield where it hosts a wide range of events including live music, films, comedy, training courses and also runs a micro-brewery.
At the end of 2018 it became a community benefit society with the intention of increasing its membership and raising investment by community shares.
Gareth Roberts, one of the founder members of Regather Co-operative, said:
" We have always been a co-op but as we have grown we felt we needed a new structure and rules to really achieve our vision of a community-owned and managed food system in Sheffield. The community benefit society will allow us to greatly increase membership and attract investment and there is an asset lock so it will always benefit the local economy.
"We hope to hold a community share issue later this year to raise capital investment for the further development of Regather Farm. We want to encourage co-operative involvement in the food system in Sheffield, so that money is retained in the local economy. Our aim is for Regather Co-operative to be a significant producer and supplier of local food in a values-based chain that creates employment and shares skills."
Tim Coomer, Business Development Manager at Co-operative & Community Finance, which manages Co-op Loan Fund, said: "I was really impressed with Gareth and the Regather team when I visited them. Gareth has built a skilled and committed team around him who not only provide the capacity to scale up but also have all the operations now in place to make the vegetable box scheme in particular work better and grow."