One of the UK's longest established and most successful social enterprise development agencies is opening two new commercial kitchens and cafes in London, north and south of the Thames, that will provide training and business incubation, as well as good food and refreshments.
Co-op Loan Fund and Big Issue Invest have provided Greenwich Co-operative Development Agency (GCDA) with the working capital it needs to set up the kitchens/cafes at Lockside in Newham and Lakeside in Thamesmead. Lockside has just opened and Lakeside is expected to open next spring.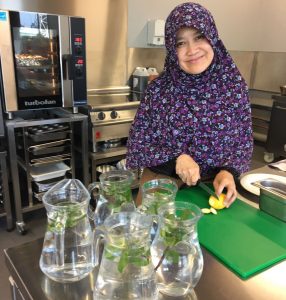 GCDA in South East London was established as an enterprise agency in 1982. The aim was, and still is, to support the establishment of community owned, democratically managed businesses to create employment, local economic opportunities and protect or provide local services.
Over the last 36 years GCDA has adapted to major changes in the funding of support agencies by being agile and entrepreneurial. In 2010 GCDA established its own business start-up centre which houses a number of food and health-related businesses. GCDA also runs cafes and community hubs on a contractual/subsidised basis and provides specialist catering and food business support across England. GCDA employs 38 staff most of whom are based at its two main business/community hubs in Greenwich and Woolwich, although it operates in other parts of London as well.
CEO Claire Pritchard, who has been with GCDA for 16 years, explained: "We receive very little grant funding. About half our income comes from contract work in the public sector, much of it to do with health and food, and half comes from our own business activities. We are constantly looking to develop new projects, especially those that improve the health, wealth and wellbeing of people in disadvantaged communities.
"We believe our activities have a significant social impact. Last year we recorded more than 60,000 individual interactions with people. About 5,000 of these are people who took part in repeated or regular activities such as training courses, cookery clubs and business support."
The new 70-seat open plan kitchen at Lockside is part of a development within Royal Albert Wharf. GCDA is working in partnership with Notting Hill Genesis Housing Association and Bow Arts to develop a thriving local cafe as well as incubate new food businesses and host training activity.
The Lakeside kitchen will be within an old community centre which is part of a big development by Peabody, one of the oldest and largest housing associations in London, to build 20,000 new homes over the next 25 years. Peabody is working with Bow Arts to renovate the building, creating work and studio spaces as well as the teaching kitchen and cafe.
GCDA's innovative work in developing food initiatives is widely recognised, and in March the Mayor of London, Sadiq Khan, appointed Claire Pritchard as the new Chair of the London Food Board.
Ian Rothwell, Investment Manager at Co-operative & Community Finance, which manages Co-op Loan Fund, said: "We are happy, once again, to support this innovative and enterprising agency. They have been very successful at adapting to the changes in funding regimes over the last 30 years, and have developed many new projects that have a direct and positive impact on local communities."