A co-operative that brings together freelances, small businesses and community organisations is about to transform a five-floor building in the independent fringe of the centre of Bradford.
The building at 14 North Parade, which has been empty for over a year, will include studio, office and meeting space for co-working, and a café with commercial kitchen available for use by pop-up food ventures. Three well-known local organisations – Common Wealth (community theatre), Speakers Corner (women's collective), Chapel Street Studio (creative co-op) – have already been allocated some of the space in the upper floors. The café on the ground floor will be open during the day and in the evenings and there are plans for it to host different pop-ups to allow food entrepreneurs to test their products and business ideas.
The initiative has been pushed forward by members of Chapel Street Studio, which is a co-operative consortium of freelances and small businesses providing print, digital and marketing services. They impressed the owners of 14 North Parade, who are a local charity involved in the empowerment of disadvantaged people, so much that they were given the option to lease the building rather than buy it outright.
A number of ethical finance organisations including Co-op Loan Fund are helping to fund the venture. The kitchen, café area, and roof terrace are going to be refurbished before the building opens to the public, which is expected to be in August.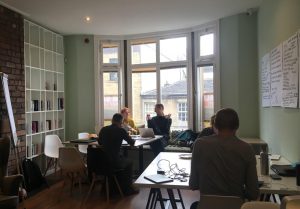 As the work is going on an 'open day' is being held every Wednesday in June and July to stimulate interest in the new venture. At the beginning of June there were 24 members of the co-operative with many more expressing an interest to join.
Martyn Johnston, one of the founder members of Chapel Street Studio, said: "We have been given a great opportunity to do something special with this building. We are young Bradfordians who are passionate about changing things from the bottom up. We have got three years to show that our co-operative approach is a fairer and more sustainable way of managing property."
Ian Rothwell, of Co-op Loan Fund, said: "It's often said that co-ops flourish in adversity and this is an good example. These people are strong natural co-operators and they know that to make a difference to social and economic life in the centre of Bradford they are going to have to do it themselves. They embrace the co-operative values of self-help, self-responsibility, democracy, equality, equity and solidarity."