An Essex farm that is one of the leading practitioners of biodynamic farming and conservation has secured its long-term future by becoming a charitable community benefit society. The new community-owned venture is being helped by a loan from the Co-operative Loan Fund as part of the Just Growth programme.
Lauriston Farm is located on the Blackwater Estuary and most of the land is a Site of Special Scientific Interest because the sea meadow and salt flats are rare and vital habitats for many birds and other wildlife. The 210-acre farm has rare-breed cattle and sheep, hens and beehives as well as large vegetable garden. As well as producing organic beef, lamb, eggs and wool products, Lauriston Farm also runs an education and training programme and provides co-worker placements for people with learning disabilities.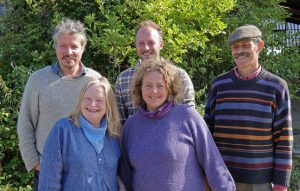 Until July this year the family-owned farm had been run by the owner's son, Spencer Christy, as a sole trader since 2004. Spencer had built a unique enterprise that was environmentally and socially responsible. He and his team wanted to expand and diversify the business and to ensure that it remained rooted in the local community, so they drew up a five-year business plan, set up a charitable community benefit society and launched a community share issue.
So far over 140 people, mostly local residents, have invested in Lauriston Farm and become members of the society. This community engagement attracted further funding from other sources.
Spencer Christy explained the difference becoming a community benefit society had made: "There's a lot more paperwork, of course, but we were expecting that. The feeling on the farm is different, we feel supported by the local community, many of whom have bought shares.
"The big difference is just starting and that's the increase in the opportunities we provide for co-workers with learning disabilities. By the middle of next year we hope to have seven placements a day, five days a week. This will mean that the horticulture, livestock and crafts operations increase as well."
Tim Coomer from Co-operative & Community Finance, which manages the Co-operative Loan Fund, said: "This is a very interesting and unique venture that brings together care for people and care for the environment in a community-owned business. We are delighted to support it."
Lauriston Farm is one of the six ventures to be selected for the Just Growth funding programme designed to support community-based food and farming projects. Eligible ventures that raise finance from community investment can have it matched with a grant (funded by Esmée Fairbairn Foundation) and a loan (arranged by Co‑operative & Community Finance). The Just Growth programme is now closed to further applications however Co-operative & Community Finance has funds available and works with a range of partners to invest in similar enterprises.
Earlier this year Co-operative & Community Finance won the Citi Microentrepreneurship Award for Effective Partnership in recognition of its work with Just Growth.