A collective of hospitality and events workers in Plymouth have taken on the premises of a previously dormant college brewery to launch Borrowed Parts Brew Co. 
Operating out of a former teaching and commercial brewery installed by City College Plymouth in the year 2000, the group have revived and retrofitted the facility which has been sat idle for several years.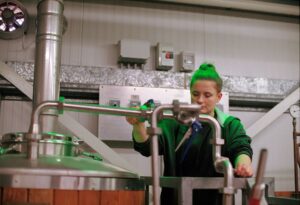 Prior to 2020, a local economic and community development organisation Real Ideas negotiated the lease and helped the group secure initial backing allowing them to train to produce craft beer at scale and develop as a co-operative.
With an interest borne of personal experience, the group favour co-operative structures and collective ownership as a safeguard against exploitation and burnout all too familiar in the hospitality and brewing industries. The group say that their interests lay in 'community ownership to counter capital led development of their community, both in terms of literal development projects and also the market-first ideology pervasive in society'.
The brewery is launching in May and will be serving at community, social enterprise and festival events in the area. They are also developing educational resources for students with the College, as well as offering paid work experience on select brew days.
In the longer term Borrowed Parts Brew Co have plans to include developing much more sustainable production practices. Currently their waste hops go to Snapdragons CIC, where slow worms burrow in its compost, and they hope to brew using waste bread once they can build up a localised supply chain.
Jack Witek, a Director at Borrowed Parts Brew Co said: "We simply would not be here if it were not for the Co-op Loan Fund. Coming at such a crucial time for us, the swift investment decision and the trust placed in us in receiving the fund gave us such a confidence boost after a very difficult and demoralising period. It has allowed us to put two beers on the market with everything that requires. Whilst we are a community oriented project, enterprises like ours need more than just volunteerism to get off the ground, and we are proud to be part of a virtuous cycle with our success helping other community and co-operative enterprises and livelihoods."
Kevin Lloyd-Evans, Lending and Relationship Manager at Co-operative & Community Finance who manage the fund added: "The Co-op Loan Fund has an important role to play in helping the Co-op sector develop. Our smaller lending is often a catalyst for further investment and growth. Borrowed Parts is an excellent initiative grounded in the principles of co-operative development. We look forward to working further with them and supporting other groups with the same outlook and ownership structures."
Visit the Borrowed Parts Brew Co. website for all their latest news and products.
Coop Loan Fund provides unsecured loans to co-operatives with no personal guarantees up to £85,000 with ongoing advice and support and no set lending terms.
Unique lending: to co-ops, from co-ops.